---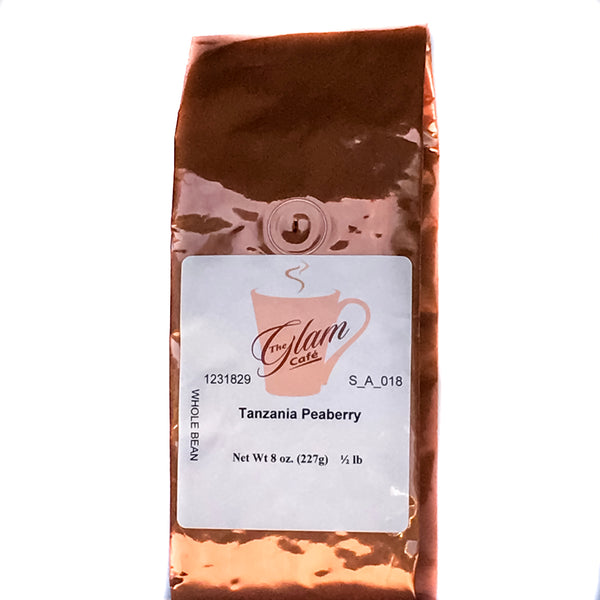 Tanzanian Peaberry Coffee is a very special single origin coffee to say the least.  It tastes more expensive than what it costs.  Mount Kilimanjaro, a dormant volcano in northern Tanzania, is the highest peak in Africa at 19,330 feet. Kilimanjaro's lower slopes provide fertile soil to grow Tanzania Peaberry Coffee, and the climate provides excellent conditions for coffee trees to thrive.
Grown and harvested on the slopes of Mount Kilimanjaro near the Kenyan border, this gourmet African coffee displays many of the characteristics of Kenyan coffee, though much lighter in acidity. Peaberry beans are small, round coffee beans with a cleft in the middle; they have a richer flavor than their oval- shaped counterparts, often rendering a livelier cup with a full body and distinguished aroma. Peaberry coffee is rare; only 5% of all coffee develops with this characteristic.
This light to medium roast is full-bodied and low acidity.  It is smooth and clean with hints of fruit, and is full of flavor.  This coffee can be enjoyed black or with creme, and has a clean finish with an exquisite taste.
Directions to get a perfect cup of coffee
Water makes up 99% of a cup of coffee, quality filtered water will improve the experience
Grind your coffee beans with a BURR grinder for the method of brewing you are using such as: drip, espresso, mokapot, pour over chemex, or french press.
Proper coffee brewing needs water temperature of 195-205 degrees Fahrenheit
1 Tablespoon of coffee for 4-6 oz. of water
Example: 12 Tablespoons would make a strong pot of coffee for a 4 cup pot.